I have a bunch of free time on my hands so I started writing record reviews again. These were all submitted to Punknews.org and so far the Drunkdriver one has been posted. We'll see about the others.
Raw Nerve – Teens In Heat 7" – Video Disease Records
Raw Nerve is the new successors to the Sex/Vid and Cult Ritual throne of ultra-hyped hardcore. Raw Nerve shares the "mysterious" aesthetic, the whole "immediate collector bait" shtick in regards to printing records and a general sound; noisy hardcore with huge Void and general Mark McCoy inflections.
"Stay Staid" (the lone holdover from their demo) and "You Live" make up the A-side. It's 1:30 of chaotic hardcore where unless you're giving the music your full attention you won't notice the different songs. The b-side's title track is actually the strongest of the four tunes, what with having a couple different parts (slow intro, buried vocals, thrash part, slow part that's not a breakdown per se, etc) that don't sound arbitrarily forced together. Though I've never enjoyed X-Ray Spex all that much themselves, the ending cover of "I'm A Cliché" is pretty goddamn fun, not a word you'd normally associate with this sort of thing.
Video Disease made up 300 copies of the record and all were sold over the course of one weekend in early October. Already these fuckers are fetching $40 on Ebay, if you can believe that. Do some investigating in distros to pay the intended price or go blog searching. Despite the inane amount of hype given, Raw Nerve delivers musically. The upcoming LP on Youth Attack (naturally) should be a doozy.
Drunkdriver – Fire Sale 7" – Fashionable Idiots
Though few probably expected it, the band Wives ended up spawning two of the more exciting rock bands around in 2009 in the form of No Age and Drunkdriver. While No Age's progression has led them to indie rock stardom with softened noise and tight tunes, Drunkdriver decided to go the complete opposite direction, almost daring listeners to make it through full records. If you've watched blown out cell phone videos on YouTube you might recognize the trademark Drunkdriver sound, except they do it with just drums, guitar and vocals.
The A-side of Drunkdriver's most recent single contains their most blatantly punkish song yet, "Fire Sale." The barely two minute track pummels the listener with a repetitive four chord riff, pounding drums and up front yowls. As the song races on the volume of the music subtly increases until the end, by which time every new cymbal crash comes within striking distance of breaking an ear drum.
The b-side "It Never Happened" slows the approach down to a crawl, doubling the length of the title track whilst lurching forward with sporadic drumming and eye shaking feedback. Michael Berdan's anguished vocals move into the spotlight for this song until the last 45 seconds, which could possibly be classified as grind if only you could hear individual instruments in the swirl of noise.
Since this is 2009 and vinyl is all the rage again, let's speak of the packaging for a bit. The plain black record comes encased in a plain gray cardboard sleeve with an obviously photo copied sheet of paper glued on, both sides identical save for the song title; it's ugly packaging for ugly music for ugly people. Perfect.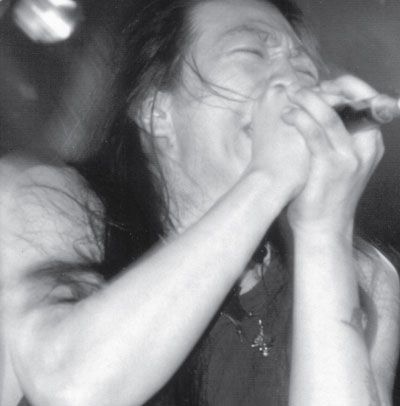 Crow – Flock of Beast 7" – Prank
Alright, as much as I claim to love just about all Japanese hardcore, early Crow records have always been weak areas for me. The only records from Crow I'm familiar with are their stellar 2005 LP Bloody Tear and their brand new 7", Flock of Beast. The Crow that I know is a crusty metallic monster and the new EP doesn't disappoint if you're looking for more of that sort of thing. This EP has crossover appeal written all over it; it's for the punks (not punx), thrashers, maybe even some noise fans and traditional metalheads.
Even though I haven't heard Ride The Lightning in probably twelve years the mid-tempo, palm muted gallops of "Flock of Beast I" are bringing me straight back to my pre-teen Rock 103.5 FM (what's up Chicago heshers!) days. Guitarist Tomy clocks in with some pretty wicked solo breaks and, fuck, there's even a clean interlude that if you can believe it in a punk band in 2009, isn't a complete Tragedy rip off. Of course you still get Crow's inimitable vocals, which to borrow an old cliché, separate the old Japanese men from the wacky thrash hat wearing boys. The song is moody, suitably epic and actually pretty catchy in its own right.
Putting it lightly the b-side "Flock of Beast II" is a mindfuck. The intro practically demands leg drumming, steering wheel drumming or whatever-other-hard-surface-you-happen-to-be-near drumming. Soon the sinister descending riff that forms the early backbone of the tune comes into the foreground; "What a bitchin', relatively simple thrash tune" you begin thinking to yourself. However, the exact instant before one gets comfortably into the rhythm enough to head bang Crow begins to fuck with you.
First you'll observe the slightly muffled guitar solo in the background. After that you'll notice the drumming pace picks up, ever so slightly at first until it becomes a flailing mess. Then swirls of guttural moans come into play and before you even know it "Flock of Beast II" has devolved into a virtual noise collage. Cue feedback drone, song ends, needle stops spinning and clicks off, right? Not this time friends, as the entire cycle repeats itself one more time, except this time the guttural moans never leave. Even though you've heard these parts before, the anticipation of the switches still leaves you guessing at what the hell is really going on. Only after a handful of listens will the structure of the tune come into full focus.
Chalk up another winner for Prank.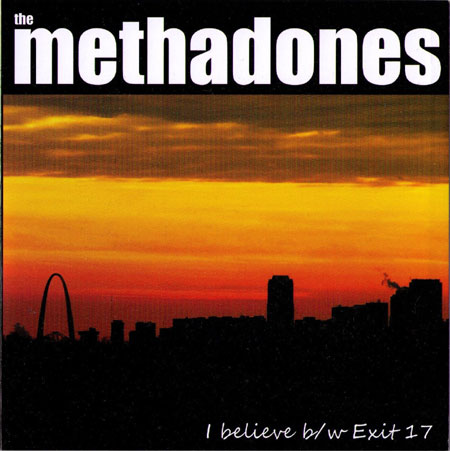 The Methadones – Gary Glitter b/w Over The Moon & I Believe b/w Exit 17 – It's Alive Records/Underground Communiqué.
In late 2009 the members of The Methadones have become involved with so many other projects that I guess we're lucky to get these four songs out of them. By my count the combined active family tree (let's not even get into broken up bands of the past) includes at least six other bands. Luckily before everything went completely crazy they completed these four songs, split between two records and two record labels.
Despite coming from the same recording session, the two records feature wholly distinct personalities. If you're the English major type that reads into every minute detail, even the record label names can give you clues. No, seriously!
"Gary Glitter" b/w "Over The Moon" came first, via It's Alive Records. It makes sense that this one comes out on the label with "Alive" in the title as it features two energetic pop-punk rave ups. "Gary Glitter" was co-written by guitarist Mike Byrne and I'm willing to put down at least five bucks that the song emanated from one of his legendarily bad jokes. "Over The Moon" sounds like a never before recorded power-pop classic (along the lines of the 2006 re-workings from 21st Century Power Pop Riot); lots of fat drunk guys will be singing along to this at future Meths shows.
"I Believe" b/w "Exit 17" is the melancholy one, from Underground Communiqué. Get it, it's under, it's down, all that type of thing? See, I told you it would make sense! "I Believe" is a full band version of formerly "Dan Schafer + acoustic guitar" tune off of This Won't Hurt. The same glum feeling hangs over the song, with Dan giving one of his most restrained vocal performances on record. The addition of the full band honestly doesn't add too much to the song though, as they just follow along with what we already knew from 2007. "Exit 17" shifts back to the acoustic realm, yet allows flourishes of drums and electric guitar bits to fill out the sound. However, coming straight after" I Believe" it sounds a bit like a re-tread and not very memorable.
Overall the two records compliment each other nicely when taken as a package but individually the edge goes to "Gary Glitter." 7/10, then 4/10 leads to a solid 6/10.