It's that time of year again, where I sit around for far too long and think about my favorite music of the year. Every single year I hear/read people saying things like "Oh nothing good came out this year" or "I can't make a list because nothing inspired me," crap like that. I bought less new music this year than years past (not having the most steady job in the world will do that to you) yet I still had to narrow down my initial LP list from the 30s down to its current 15, same with the EPs/7"s. If you think nothing good happened this year, it's your fault. So here we go.
LPs
1. Pissed Jeans - King of Jeans (Sub Pop)
If 2008 was the year of great anticipation and ultimately crushing disappointment (anticipating college graduation followed by the actual aftermath), 2009 was the year of apathy and shrugged shoulders, as summed up perfectly by the repeated mantra of "False Jesii Pt 2." "I don't bother/I don't bother" the line goes. This is life? Ok, I guess. Repeat ad nauseum. Lyrically and musically crushing, I can't believe that I used to write Pissed Jeans off.
2. Baroness - Blue Record (Relapse)
I shouldn't like this band nearly as much as I do but I just can't help it. Listening to any one song on this record out of context is not only awkward, it's fucking dumb. Every interlude, every tossed off guitar lick, every quasi-deep lyric has a place. When they rolled through town last month Reggie's was packed when the first opening band played. They're going to be rock stars soon and I couldn't be happier for them.
3. Wasted Time - Futility (Grave Mistake)
Remember all that apathy I was talking about with Pissed Jeans? For the 17 minutes that I listen to this LP all that apathy disappears, replaced by a boiling rage so intense that I want to go out and punch the first person I encounter in the head, steal their car and crash it straight through the front doors of the nearest bank. This album defines hardcore circa 2009.
4. No Slogan - Aversion Therapy (Residue)
For a small period of time I took No Slogan for granted, as weird as that may seem. They seemed to play every third show I went to, always played a solid set of mostly newer tunes, did their thing. After finally getting my hands on the full length, never again. Usually when people use the term "Chicago Punk" they limit their references to the big hitters like Raygun and Pegboy when they should be including No Slogan's arsenal of big riffs and woahs.
5. Desino Final - Atrapados (La Vida Es Un Mus)
Somehow the remaining Invasion members managed to simultaneously strip their sound down and increase the innate claustrophobia of the vocals. I'm going on record that I have had at least one confirmed hellish nightmare with Atrapados as the soundtrack.
6. Future of the Left - Travels With Myself and Another (4AD)
Initially I wasn't that impressed with this album, but I kept feeling compelled to go back and listen. If I could somehow calculate the amount of time certain songs ended up stuck in my head then "Lapsed Catholics," "You Need Satan More Than He Needs You" and "Land of my Formers" would dominate 2009.
7. Punch - Punch (625 Thrash)
My tastes normally don't veer toward the general 625 catalogue, or fastcore or whatever inane microgenre name it has. That said, this album rules and actually makes an album with such a high number of breakdowns tolerable. Most paint scraping female vocals since Erika Daking of F-Minus.
8. Social Circkle - City Shock (No Way)
Being a super fan of Social Circkle actually ended up hurting this album's final numerical placement. How's that possible? Well from listening to the
March 2008 Sessions
cassette and their original 2006 demo religiously, I already had half the LP basically memorized for well over a year before it arrived on my doorstep. Kind of a bummer but the new tunes mix right in with the old ones for an LP that should make even the most jaded of old farts take notice.
9. Sacred Shock - You're Not With Us (Residue)
Restraintcore? What? There's a quality about this record that I still can't quite get my head wrapped around nine months later. Don't get me wrong it's hardcore punk rock but there's a restrained, almost subdued nature to it that differentiates Sacred Shock from the field of mindless thrashers. None of this is probably making much sense but keep that in mind on your next listen and you should get it.
10. Kylesa - Static Tensions (Prosthetic)
I might be the only person that can honestly say that Pitchfork turned me onto Kylesa. Sure I'd known them, heard stuff in the background at parties or whatever but never really gave a dedicated listen until Pitchfork hosted a stream of this LP. By the time the two drum intro of "Scapegoat" ended with a massive guitar riff I knew I was hooked. I've explored the back catalog a bit now but nothing touches this. True crossover without a single galloping palm muted riff.
11. Flipper - Love (MVD Audio)
By virtue of not sucking, this album gets on the list. Seriously. I love Flipper more than any so called "sane" man should so I feared the worst, especially when the first songs went up on myspace. Luckily in context they make sense and this album, while not an all time classic, does signify that there's still juice left in the old Flipper formula.
12. Converge - Axe to Fall (Epitaph)
For 11 songs and 30 minutes my head explodes from the manic, monstrous, mega riffs contained in this record. Even without Jacob Bannon's vocals I'd play the hell out of this. On my first listen to "Dark Horse" and "Axe To Fall" my jaw honestly dropped. Unfortunately the last two songs, which total 12 minutes, bore the living shit out of me.
13. Cult Ritual - LP (Youth Attack)
&
14. Propagandhi - Supporting Caste (G7 Welcoming Committee/Smallman)
This is the tale of two LPs that didn't hold up well over time at all. I listened to both of them like crazy on first release and almost never after about a month. They're not bad records by any means but I just got too wrapped up initially to really listen too much later on. Oh well.
15. CoCoComa - Things Are Not Alright (Goner)
Sharing the same slot as Drunkdriver last year, I became obsessed with this album last week and only realized I really liked the band about a week before that. CoCoComa have been on the periphery of my interests for a few years but I never bothered to investigate. Luckily
a clip of them "performing" on Chic-A-Go-Go
came to my attention and next thing I know I'm listening to this LP twice a day for a week and a half right near putting this list together. I'll quote myself from last year's list "Time will tell if this is a smart or stupid choice driven by temporary infatuation."
Honorable Mentions
Mika Miko - We Be Xuxa (PPM). Government Warning - Paranoid Mess (Grave Mistake/No Way). Limp Wrist - one sided 12" (Limp Wrist). Marked Men - Ghosts (Dirtnap). Mi Ami - Watersports (Quarterstick).
Click here
to listen to one song each from the top 15, courtesy of 8tracks.com. Everyone should use it.
EPs/7"s
(no particular order or real write up because I'm kind of lazy)
No Age - Losing Feeling (Sub Pop)
Deep Sleep - Paranoid Futures (Grave Mistake)
Condominium - Barricades (Fashionable Idiots)
The Methadones - Gary Glitter (It's Alive)
Drunkdriver - Fire Sale (Fashionable Idiots)
Obliteration - This Is Tomorrow (Nita/Disposable)
Logic Problem - No Center (Grave Mistake)
Slices - Slices (Home Invasion)
Loser Life - Life Number 2 (Rock Bottom)
Disnihil - Future Cancers (Lifeline)
Classics of Love - Walking in Shadows (Asian Man)
Smart Cops - Smart Cops (Sorry State)
Crow - Flock of Beast (Prank)
Warcry - Nausea (Warcry)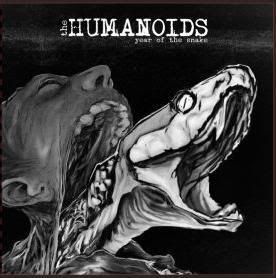 Humanoids - Year of the Snake (Rock Bottom)

Best LP of 2008 That I Didn't Get Until 2009
Eddy Current Suppression Ring - Primary Colours (Goner) & Nobunny - Love Visions (1-2-3-4 Go!)
Nobunny dominated the late winter/spring and Eddy Current Suppression Ring dominated the late summer/fall. Picking between the two is just about impossible so I'll officially call it a tie. I can't wait for both of them to release new stuff in 2010.
Best Singles Collection
Deep Sleep - Three Things At Once (Grave Mistake)
2009 was a weak year for singles collections. Off the top of my head and even after a little digging I can't really come up with too many good ones. Luckily there's this little compact disc, tracing Deep Sleep's trek from an above average hardcore band to a mind meltingly good technical pop punk monster.
Reissue of the Year
Death - ...For The Whole World To See (Drag City)
Clive Davis, I'm going to gouge your eyes out for making this sit unreleased for 34 years. Seriously, fuck you.
Demos of the Year
Manipulation
Raw Nerve
Neurons


So yeah, that's it for now. In a year I know I'll look back and this and see something I missed or placed too high but that's the joy of this, the snapshot effect.