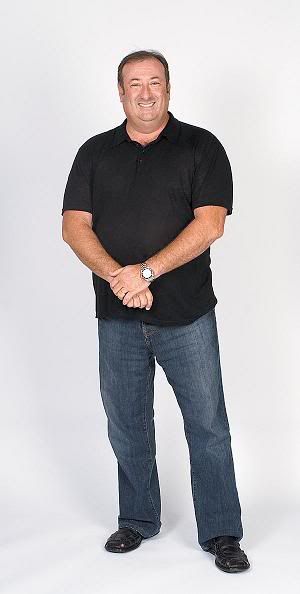 (Photo from TimeOutChicago.com)
Oddly enough I was actually kind of nervous in the lead up to doing this interview. The Metro is one of the longest running and most well known "clubs" in the country and Joe is an extremely well known and respected man around town (except by Steve Albini, of course). Though my tastes have veered away from what they're booking a lot of nowadays it'd take me both hands and probably a foot to count the amount of amazing shows I've seen there. After a little initial phone tag we finally got started up and ended with a lot of material to write a pretty good piece for the site. Thanks Joe!
Bill: Can you explain what exactly your role is in the Metro and Double Door?
Joe: Well let's see. At Metro I am the proprietor and I'm involved with the running of the business as well as well as the booking aspects of the shows. I mean I would say the owner but I kind of feel like I'm in the trenches.
Bill: Not an absentee landlord type set up.
Joe: Ha, no! I come to work every day at 10 AM, leave at 6 PM, go home; a lot of times come back for the show, that type of thing. At Double Door I'm a partner in a partnership there with a couple other like minded music fans and music business colleagues.

Bill: How did you initially get involved in the live music business or the industry in general?
Joe: I don't know if I'm actually in the industry (chuckle) but I just had friends that were in bands and either I helped them promote a show in college and in other aspects of things in the early 80s. There were a lot of bands I was friends where I'd go to support them at local clubs and as I began to realize that I liked to promote concerts or events I invited some of them to join me. It's about as simple as it can be.

Bill: Now you're involved in running two nationally well known clubs; do you see a distinction between what you do at the Double Door and at the Metro?

Joe: (Pause) Well the two are very distinctly different. I look at Double Door and I think it's one of the cooler, well equipped clubs in Chicago; good sound, good lights, good stage. That has more of a bar sort of atmosphere, and then Metro is sort of the "venue," more of a "venue" or "concert hall" type presentation. There are differences but there are similarities because they're both clubs, and I think one of the best things about live music is that, you know, seeing things at Double Door sized room or a Metro sized room is really the proper way to see live music. Going much larger there seems to be a disconnect possibly in the intimacy between the fans and the band. Yeah, and even though I've seen great shows at the Vic, the Riv and the Aragon my mind always wanders back to when I first saw the band. Oh, first time I saw Kings of Leon was at Double Door, first time I saw Smashing Pumpkins was at Metro. So those kinds of ideas.

Bill: You've been doing this for well over 25 years now; what do you think is the greatest shift that you've noticed since when you started?
Joe: The greatest shit? (chuckle)
Bill: (hearty chuckle)

Joe: Well there are a lot of shits in our business! Ha, no, I suppose the biggest shift, certainly you have to consider it to be the internet. You have to consider that at one time we would put tickets at Wax Trax and Reckless and all these little record stores around town to sell tickets for our events with flyers and posters and handbills. You know, sort of guerilla street team type things, where now a band has a website or a Myspace page or Facebook page or something. You put a show on sale and 70 percent of the tickets sell online.

Bill: Yeah
Joe: We'll still get some walkups and we'll sell some at the box office, but it has to be that. Information and the quickness of finding out about a show or a band coming to your market, coming to your club, your venues, your neighborhood; it has to be that seismic shift. It's not small, it's massive. And it's good, I think it helps everybody.

Bill: Would you also say that's one of the biggest adjustments you've made since then, embracing the internet and embracing technology?
Joe: (pause) Embracing?
Bill: Yeah, using it. And you know, you'll hang on to handing out fliers and posters and such.
Joe: Well I think that's still an important part of what we do, and that goes back to the individual kind of promoting a band. And I still think that word of mouth, whether it be word of mouth, whether it be internet, texting or email, I still find out about bands from people telling me something about a band. I'll see somebody and say "Have you heard of St. Vincent?" or "Have you heard Other Lives?" or other bands that are under the radar at this point but probably won't be for long. You know, people talk about the bands that they like and they'll tell someone like me that is also a music fan their favorites. I think that that's still the most important way of finding out about music.

Bill: Last summer (2008) you were a very big opponent of the Chicago Promoter's Ordinance. Can you give a little bit of information about it for people that might not know what exactly is was, and have you gotten any new status updates about it?
Joe: I don't know much about where it sits right now but I do think that it was taken off the table because of the amount of (pause) the overall positioning of venues and established promoters. You know, back in 1982 when I did my first show at Metro I didn't have the money to afford insurance or to afford a licensing fee; I went under the insurance and licensing fee of the venue that was currently here. So I (pause)I can understand what the city is trying to do, I understand the regulations that they're trying to create. That sort of rogue, and illegal, sort of activity would not be focused towards live music venues and/or clubs. Because that's a big another difference, the difference between a club trying to do something cultural like a band or a DJ, and then someone just trying to fill up their Tuesday night by doing some kind of drink special and getting someone to email all their friends to come and have a liquor lobotomy.

Bill: Ha!
Joe: That's the dangerous side of it, you know what I mean?
Bill: Yeah, yeah.
Joe: I get that, I understand that and why it might need to be regulated. But it comes down to the facilities and comes down to the level of the law. There are liquor licenses and venues licenses and if people would play by the rules that are currently established, there's no need to have the young hip hop promoter or the young rock promoter or the young dance promoter going through hoops and going through licensing and getting all these regulations to satisfy something that's, you know (pause) it would just impede creativity and impede the ability to find new bands and new music for a great city. It's just the wrong way to be going about it.

Bill: Yeah that's mostly what I got from reading about the ordinance last summer, they just didn't really seem to understand what they were doing and I'm glad someone who knows…
Joe: But it's a reaction to something kind of negative, in regards to E2, people died. And a promoter got greedy and rammed his club full of people. He didn't adhere to the letter of the law. But should the guy who does the jam bands like the Silver Wrappers or the Riot Fest people or whoever be lumped into that? Because I don't necessarily think that's the same kind of thing. I think some might say there's a fine line between the two but I don't think so. I think it's a sidewalk, I think it's a whole street. If you're promoting concerts, if you're promoting live musical presentations it's a very different set of parameters. You have to deal with, you have to promote and you have to work with people who own venues who are basically on the hook for it. So I love this aspect of it, some day the mayor's really hot to do the Olympics, and I think we should do it, I think it'd be great to have the Olympics in Chicago. But what happens when the Parisian promoter calls me and says "Hey I want to do an event" and I have to say "Oh, I can't do it, you have to be a licensed promoter here in Chicago, you've got to go through the city and get your license, get an insurance policy." So what happens there? We're going to try to do something really cool with, you know, maybe Gogol Bordello, some European band or something? (starting to get frustrated) I find it… you know what I'm saying?

Bill: Yeah totally.
Joe: It would impede the business, it would impede commerce, and that's not what we should be doing at this time with the economy.

Bill: Ha, yeah especially right now.
Joe: We should be just like "Come on! Bring it on! Who wants to come to Chicago and promote concerts or events with the well run facilities that are here!"
Bill: Now you mentioned the economy in your previous answer; have you noticed an effect from the economy on attendance at your shows?
Joe: You know, everyone's been affected by it; it'd be silly not to notice it, all business have been affected. With Metro and Double Door, with both of them we've always been very cognizant of the fact that ticket prices really are controlled by what bands and what bands need to earn to come to Chicago. We need to keep those ticket prices in line; we have to keep the ticket prices in line with what the venues normally charge. For instance, it'd be unlikely to see a $40 ticket at Metro.
Bill: Yeah, I've never paid anywhere close to that much for a show there.

Joe: Yeah but at House of Blues, $40 is kind of normal, they have them there. It'd also be kind of out of line if you saw $25 at Double Door; it's $10-$15 there, you know what I mean? It's $10-$20 here at Metro. I think you have to be cognizant of the fact that that's what the business model is based on, which is people supporting local, as well as regional and national music on those price points. Drink prices tool you don't want to be too out line with your beer prices or your cocktail prices. You need to be aware of those as well.

Bill: If they're too expensive no one's going to buy them.
Joe: Yeah, it's important. We have definitely looked at that. (pause) Yeah, we're affected and we fight the fight every day to make sure that it stays in line.

Bill: Within the last ten years or so there's been a lot of talk about how record labels, especially major labels, are kind of… I don't want to say dying out, but are hurting. How's the live section of the music industry faring in this sort of technological time?

Joe: (pause) What was that?
Bill: How's, um, concert promoting and… well let me re-phrase that. There's been a lot of stuff going around about labels hurting from MP3 technology and such. Have you felt any negative effects from it, has that hurt you at all?
Joe: Ha, run that by me again I'm trying to get my head around it.
Bill: Well for example Touch and Go just shut down, so it's not exactly the best time to be in the "music industry." How are Metro and Double Door faring in this type of climate?
Joe: Remember, independent bands, independent clubs, independent promoters work in a network of independence. I'm not reliant on major labels and major tours for all the things we do at Metro and Double Door. Otherwise we'd just be showcase rooms. The local and regional music communities support these facilities, whether or not it's the first time we've looked at a band from Saddle Creek and they weren't that far to drive to Chicago. Like The Faint were looking to play Chicago; that's a good example. They played I think at the Fireside the first time I saw them, a smaller venue. Next time through it was something where we were like "talk to the band, talk to the manager, talk to the label. You know this could be a good opportunity for us to do something." I wouldn't say the first time through we were selling two or three shows out. It's a building process. I think that whether it's a band from Milwaukee or a band from St. Louis or a band from Stillwater, Oklahoma, like Other Lives. We're in the building… we're a rung on the ladder. We're part of that building process. So that's why I try to stay away from words like "music industry" or "business" or that kind of stuff because we kind of haven't changed in twenty five years in that it's a network of people who are like minded; independent bands, independent labels and independent promoters. I think that's an important thing to keep alive and I think it's an important thing that everybody reveres and wants to take care of.

Bill: Yeah.
Joe: Like just the fact of what's going on with Mike and Riot Fest and Metro. This is great that this is happening. This is a smart organization working with another smart organization to create something that is really wonderful. I don't know if it would happen in another market but it happens in Chicago because this is a very healthy community for that. I think it's also because of the fact that there are so many independent labels. It's crushing that Touch and Go is not what it was, but I mean Cory did it for a long, long time.

Bill: Almost 30 years.
Joe: Yeah! (exasperated gasp) I mean my hat is off to this guy. I think running a club is probably easier than running a record label. (chuckle)
Bill: You only have to deal with the bands for one night!
Joe: Record labels, you're married to them! And that's ok, we're kind of married to them too.

Bill: It's an open marriage.
Joe: (chuckle) It is an open marriage.

Bill: One of the more curious things I've noticed about Metro and Double Door is that if you look back to when you opened the Metro in 1982 Wrigleyville was kind of a dead zone and when you think back to Wicker Park in the 80s and early 90s, there's been a ton of changing in those neighborhoods. Has there ever been any pressure on you to sell the property or threats of being kicked out because of eminent domain laws, things like that?
Joe: (pause) Oh boy. You just sent a shiver down my spine

Bill: Ha, I apologize!
Joe: When you think about it, we're really fortunate in that our neighbors know what we do; I mean one of my neighbors is the Chicago Cubs, the big ballpark up here. Back when we started I don't think the Cubs were drawing 10,000 people per game. Probably when you think about it, with 80 home games who knows how many hundreds of thousands of people were coming at that time. Now what is it, I think it's in the millions.

Bill: Over two easily.
Joe: This is definitely an area that was aggressively working towards a better quality of life for so many reasons. I do think that at the end of the day (pause). Eminent domain? It's a very interesting sort of concept. I don't see that; Clark Street is a major thoroughfare. I think we'd hard pressed to see that ever happen. Maybe if something was really to change with Wrigley that might be a sign of it, but I highly doubt that. At least until the banks start lending money again. (chuckle)
Bill: And who knows when that'll be. As one of the more experienced people around, do you have any predictions or inclinations about what you think is going to happen next?

Joe: Well I can tell you what I don't want to happen next! I don't want Live Nation and Ticketmaster to become one company.

Bill: You and me both.
Joe: I think that is going to be so bad for the consumer. But in the same breath Ticketmaster and Live Nation, they're businesses from the top down. With Metro and E-Ticks, it's business from the bottom up. It's what they say, it's the stuff that's done in the trenches here. That's why I come to work here every day, that's why the buyers come to work every day, that's why Edie and Laurie at Double Door go to work every day. There's a reason for it. That's their job, but we don't have the Rolling Stones or U2 or Bon Jovi to sweep millions and millions of dollars into our hands. We're working on the Presets! We're working on the reunion of Rights of the Accused, you know! (chuckle)

Bill: Ha, just a slightly different scale.
Joe: I think maybe this is what it comes down to. I can tell that you're a music fan.
Bill: Yes I am.
Joe: I'm a music fan too. Commodifying music, that's what I'm afraid of. I don't want to see music become completely commodified or commercialized, whether it be through television ads or radio ads or whatever else, you know. I think there's a lot of great independent music and a lot of great independent bands that we should be working with. And we're going to go for that.

Bill: How much longer do you see yourself doing this for?
Joe: Uhm, that's a good question, I don't know! Can't answer that. I suppose when it's not fun or not rewarding.

Bill: Hopefully that's not too soon.
Joe: No.
Bill: Earlier you were mentioning a couple bands, and I like to think I keep my ear to the ground and pay attention to everything but you were throwing out a couple names earlier I hadn't heard of that I'll have to check out once I stop the recorder.

Joe: Yeah and that's what the whole thing is, this whole great word of mouth. We're working to keep that alive. It's very like minded people are we're very fortunate to be in that position.

Bill: Well I'm all out of questions, do you have any last words or thoughts you'd like to add?

Joe: You know, again, just from the day that someone traded a tape with you to now when we're sending MP3s around the internet together, music has got its own life, its own language. No one's a gatekeeper; we're all just fans.

Bill: Cool, thanks a ton for your time and for taking my call.

Joe: Absolutely!
Bill: I'll shoot you over an email when we get the feature up and running.

Joe: Ok well thanks so much Bill.
Bill: Alright take care.
Joe: Bye.