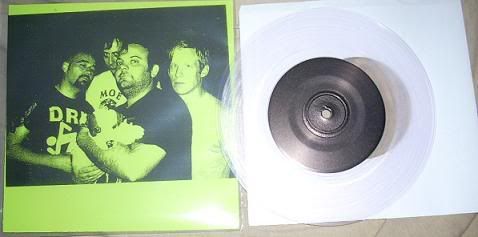 Chronic Seizure - Live WHPK 7"
Fashionable Idiots Records
October 2008
By: Bill Molloy
Anyone who knows me knows that I'm basically a Chronic Seizure fanboy. Ever since seeing them in a sweaty-as-fucking-get-out classroom at DePaul in the Summer of 2005 and getting their first demo tape they've pretty much been my favorite Chicago hardcore group. Astoundingly enough they've only managed to keep getting better, rising to the top ranks of national hardcore, as witnessed by probably my favorite LP of the year,
Ancient Wound
. To steal from my own review, Chronic Seizure write actual SONGS instead of simply slapping four chords on top of a fast 4/4 drum beat.
That said, I don't count this in the steady upward trajectory. If you couldn't glean it from the title, this 9 song 7" is a recording from a summer 2008 set at the University of Chicago's radio station WHPK. The record includes eight songs from the aforementioned
Ancient Wound
as well as "Violent Opposition" all the way back from the
Brainsick
7". The performances are pretty representative what you'll get from a CS live set; awesome. The sound on the 7" sounds like it was taken from a cassette dub from the broadcast rather than the actual master recording in the booth. Whether that was intentional or not I can't vouch for but it does give you the feeling that you're listening to the original broadcast.
For hardcore fans
Live WHPK
is a cool addition to the collection but for the casual ones it's not really necessary. HOWEVER, for those nerds out there like myself, the first 100 copies come in the above pictured acetate sleeve, and there will only be 500 pressed all told. If you're a super fan snap it up; if you want to get know the band (what took you so long) pick up the LP and the two other 7"s. RIYL: the 80's hardcore revival (which I'm actually beginning to get a little sick of, amazingly enough)
7/10.
Chronic Seizure Myspace